BRAUM Racing Black Matte Seat Belt Harness Bar Kit for Nissan Z33 350Z Coupe New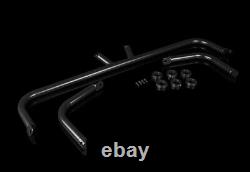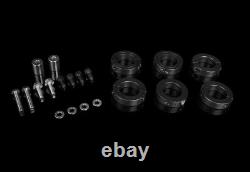 BRAUM Racing Black Matte Seat Belt Harness Bar Kit for Nissan Z33 350Z Coupe New. This product data sheet is originally written in English. If you're serious about racing, chances are you either have a 5 or 6 point harness installed in your track vehicle, or you're thinking about installing one. To accomplish this, however, you'll need a solid foundation upon which to mount your harness. Your stock seat belt mounting points won't work; they're in the wrong location and won't provide the kind of support you need to stay firmly planted in your seat during hard cornering and collisions. That's where our 2003+ Nissan 350Z harness bars come into play. Our harness bars allow you to install 5 or 6 point harnesses in almost any vehicle. They are adjustable so you don't have to worry about less-than-optimal fitment, or whether or not they can be reused in your next track vehicle. Our harness bars are made of high strength steel, powder coated in the all-time-favorite colors of glossy red, black satin, and glossy white. They allow for 4 point mounting for a stable and secure fit.
In addition you will receive high quality hardware for a quick, complete, and reliable installation. When receiving your package, please open all of the boxes immediately to check if all the contents are inside and not damaged.
If the product received is defective, a replacement will be sent as soon as possible. I will refuse any damaged or products that are not in good condition. They will inform you on how to proceed based on their policies. All of my products are 100% brand new unless otherwise stated in the description above. As mentioned above, please inspect your order upon receipt.
All items (except those exempted) are intended for off road use only, may never be used on public roads and highways.

---