New Takata Racing Seat Belt Harness 4 Point Snap-On 3 Cam lock Universal Fit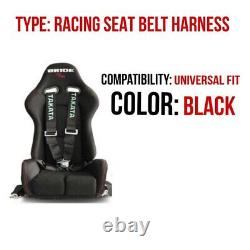 Here are the item specifications for the New Takata Racing Seat Belt Harness. Type : Racing Seat Belt Harness. Color options : Black or Green - You can choose the color that suits your style. Adjustability : Adjustable length for a custom fit. Mounting : Designed for easy installation in various vehicles.
Safety Standards : Meets or exceeds all relevant safety regulations and standards. Usage : Specifically designed for racing and high-performance applications. Reinforcement : Reinforced stitching for added durability and strength.
Quick Release : Equipped with quick-release mechanisms for quick and easy removal. Logo : Features Takata logo branding for authenticity and style. Weight Capacity : Designed to withstand high loads and stresses experienced during racing events.
Certification : May come with certification labels indicating compliance with specific racing or safety standards. Quantity : You can set the quantity for each variation you have available. Features : Easy to Install, Quick release.
The 3%u201d wide racing harness for mounting in a 4 seater car is FIA certified for racing safety. Safety equipment comes standart with cam lock buckle device. Belt length adjuster, fasteners for atthachments to eye bolts and four short eye bolts for easy installation and removal. We use proper packaging to avoid a damage. ETA - Estimate Time Arrive.
Proper packaging with burble wrap and box. System tracking and DHL website.

---