RaceQuip 711001 Latch & Link 5 Point Auto Racing Harness Set SFI 16.1 Seat Belt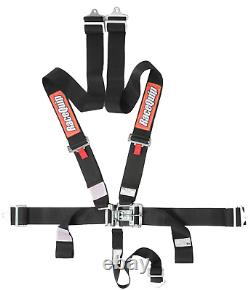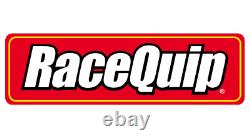 RaceQuip Latch & Link 5 Point Auto Racing Harness Set; SFI 16.1 Seat Belt Set. RaceQuip's Latch & Link 5-point auto racing harness set has twin individual shoulder belts and is manufactured using premium 3? And the lap belt adjusts from 20? All RaceQuip 711 series belts come as a "pull down lap" design, which means that the lap belts must be pulled down and away from the center latch & link buckle mechanism to tighten. All RaceQuip Latch & Link motorsports harness sets are distinguished by a pivoting "hammer, " called a Duckbill, which is located on the lap belt and locks all of the belts into place by snapping down into a detent.
Both shoulder belts and the sub-belt are hooked over the link; the link is inserted into the latch on the lap belt; the Duckbill is then brought down into and over the link, securely holding all of the pieces in place. Since RaceQuip seat belt sets are "double adjustable", lengths are simply adjusted on either end for ease of installation.
Using the included three bar slide you can mount the belts by either wrapping them around a rollbar or by bolting them in place with the supplied ends (bolts not included). SFI 16.1 Rated (Tags Affixed). / FMVSS Certified for On Highway Use. Pull Down Style Lap Belt. 5 Point Design - Single 2?
Double Adjustable for Ease of Installation. Wrap Around or Bolt-in Mounting.

---