Racequip Seat Belt Harness 748008 Dragster Camlock 4-Point 3.000 Black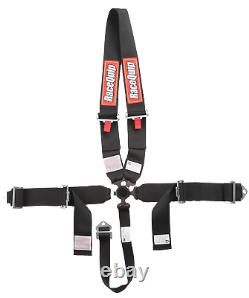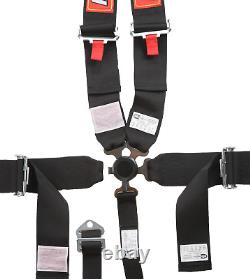 Racequip Seat Belt Harness 748008; Dragster Camlock 4-Point 3.000 Black. SFI 16.1 Rated (Tags Affixed).
Size: 3" Lap, 3" Shoulder, 2 Sub. / FMVSS Certified for on Highway Use.
4 Point Design - Buckle Stays on Crotch Strap. Double Adjustable for Ease of Installation. Wrap Around or Bolt-in Mounting. Shoulders Adjust from 20" to 40". Lap Belt Adjusts 20" to 60".
"U" Style Continuous Shoulder Belt. Lightweight Aluminum Alloy Cam Buckle. Wide Engagement Cone For Easy Snap In. Precise Spring Pressure for a Positive Feel.
The RaceQuip U-Style Dragster SFI 16.1 Rated Camlock Harness set provides the best value in a purpose-built rail dragster seat belt set. Sometimes called a 4-point configuration, the shoulder harness is one continuous 3 belt that wraps around the belt bar behind the driver's head in a rail type dragster chassis. The lightweight aluminum alloy cam buckle provides precise spring pressure for a positive feel when rotating the lever to the 45 degree (right or left) unlatch movement. The cam buckle stays connected to the crotch strap to keep it out of the way when not in use. This motorsports seat belt system also features a "pull up" lap belt design which means you pull the lap belt ends toward the cam buckle to tighten the belts. This auto racing harness is manufactured with premium 3 polyester webbing and double-adjustable ends to help ease installation. Mounting of the lap belt and crocth strap is either wrap around or bolt-in with the included drop-forged steel hardware ends. Shoulders adjust from 20" to 40" and lap belt adjusts from 20" to 60". NOTE: RaceQuip motorsports harness sets and seat belts are NOT D.
/ FMVSS 209/302 certified for on highway use. They are only to be used in racing vehicles off of public streets and highways.
All racing harness sets are designed tomore... PerformanceParts is an authorized reseller of Racequip. All items will be declared as actual value, we do not mark as gift or at a reduced value. Some items cannot be combined due to size or weight. Items must be in the original packaging.
For your protection, we recommend insuring the package for the full value. Please provide pictures if possible (for both the item and the packaging). If you have any questions or concerns regarding the item, please contact our customer service department.
To return an item, please follow the steps below. Wait for an RGA number to be issued.
This process may take up to 5 days. All instances of fraud are referred to IC3, as well as state and local authorities, and will be prosecuted. Monday - Friday 8AM to 6PM Central Standard Time.

---