RetroBelt Four Point Seat Belt Harness For Classic Hot Rods Push Button Black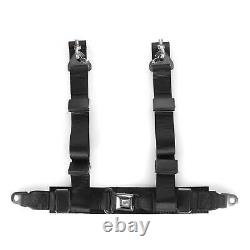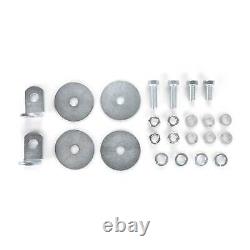 RetroBelt®'s four-point harness features an attractive chrome push-button buckle and black webbing. This is not a racing harness, but is an advanced driver or passenger restraint system designed to provide an additional level of safety over lap belts or lap and shoulder belt systems. The harness is fully adjustable and mounts to the existing seat belt anchors. Mounting hardware is included to install the harness to the floor, harness bar or roll bar. Adding seat belts is a wise investment in the safety of yourself and your family.
Price is per each seat belt. Mounting hardware and 12-Page installation guide included to ensure maximum safety.
Lap portion adjustable from 1 inch to 18 inches. RetroBelt Four-Point Seat Belt Harness for Classic Hot Rods Seatbelt. Rear portion adjustable from 15 inches to 67 inches.
Attractive chrome starburst push-button buckles. Buckle measures 2 by 2 inches. RetroBelt Lap Belt Hardware Kit #21. RetroBelt Advanced Shoulder Belt Hardware Kit #32.
RetroBelt Black Aviation Lap Seat Belt 60. RetroBelt® brand products offer Modern Safety for Your Classic-contemporary features with classic styling for your vintage vehicle. RetroBelt® offers two-point, three-point and four-point seat belt systems for the classic vehicle market. All of our seat belts meet Federal Motor Safety Standards (FMVSS) 209 and 302 standards. Located in Henderson, Nevada, our company is constantly striving to improve our products. Our seat belts provide superior value for the classic vehicle restoration market. In addition to seat belts for classic vehicles, RetroBelt® offers specialty belts (minimum order quantities required). Any missing parts from your return will be charged back to you at our discretion.

---